Plating Options
Die struck pins, diecast and soft enamel items are all are available with full plating options for the base metal. Hard enamel & cloisonné items require high polish plating finishes. The most popular plating choices are high polished gold, high polished silver and black nickel.

Regarding BRONZE plating: Polished bronze plating is bright & shiny and has a look similar to, but not as yellow as gold plating. If looking for a brownish bronze color, select Antique Bronze plating.


For SOFT ENAMEL, DIE STRUCK & DIE CAST Items...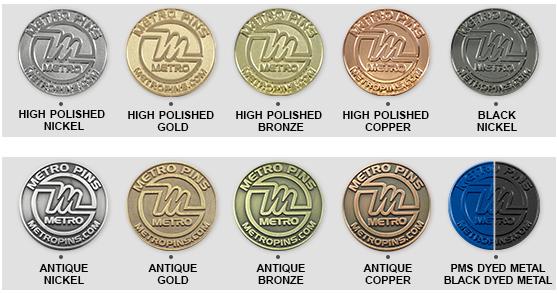 * Additional fee for Antique plating options.
* Additional fee for PMS Dyed plating. Most
PMS colors
available
For HARD ENAMEL & CLOISONNÉ Items...

NOT available for hard enamel or cloisonné: Antique plating, PMS Dyed plating