AFA Trading Pins for your AFA Nationals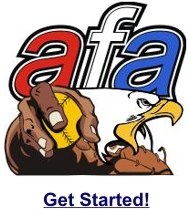 Every summer thousands of American Fastpitch Association teams head to Nationals for a week of fastpitch softball and fun. A very big part of the AFA Nationals experience is pin trading and we make AFA trading pins for hundreds of teams! At AFA Nationals pins are traded with players from other teams - it's often the highlight of the week!

What kind of trading pin should you get for AFA Nationals? We find that AFA trading pins are either soft enamel pins and photoscreen pins about 99% of the time. Soft enamel pins have texture that you can feel on the pin's surface. Photoscreen pins are flat and shiny, with full color and magazine-quality detail. We think American Fastpitch Association trading pins are evenly split between soft enamel pins (sometimes called die struck with color added) and photoscreen pins (or some related type of printed trading pin). Soft enamel pins do take longer to make (colored by hand), so order as soon as you are ready.

Compare photoscreen & soft enamel pins

What size trading pin should I order? don't get a pin that's small! You will thank us afterwards. Unfortunately small pins often get shunned when trading. The average AFA trading pin size is 1.75". We'd suggest at least 1.50", but no smaller. Be a design guru... don't splurge on a blinking LED lights for an undersized trading pin. Get a good size first, then if budget permits go for the extras. Big pins are better than flashy small pins.

How many AFA pins do I need? Thousands! Just kidding. AFA fastpitch pin orders fluctuate based upon the number of teams in the tournament. Plan for enough pins for each player to trade with each team (plus a few extras for family members). Not sure how many teams there will be? Don't wait for the final American Fastpitch Association team list or you'll pay a lot for rush shipping!!! Just look up last year's team count and add 10%, that will be close enough to the pin count you'll need.
AFA Trading Pins...