Cooperstown Pins - Trading Pins for the Cooperstown World Series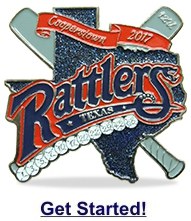 We have the best pricing for Cooperstown Pins. Cooperstown NY plays host to one of the year's largest, longest and most exciting baseball world series tournaments. A big part of the Cooperstown experience is pin trading and we make Cooperstown pins for thousands of teams! At Cooperstown pins are traded with players from other teams. Siblings even get in on it, often with their own custom pins.

What kind of trading pin should you get for Cooperstown? Cooperstown trading pins are typically bigger and fancier that other world series trading pins. Soft enamel pins and photoscreen pins are the most popular choice for Cooperstown pins.

Soft enamel pins let you feel the texture of the pin design on the surface of the pin. Photoscreen pins are smooth and shiny, giving you full color and great detail. We estimate that about 2/3 of Cooperstown trading pins are soft enamel (sometimes called die struck with color added) and the other 1/3 are photoscreen pins (or some related type of printed trading pin). Soft enamel pins take longer to make (colored by hand), so order ASAP. Compare photoscreen & soft enamel pins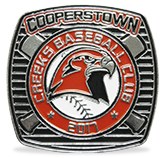 What size pin should I order? Not too small please! You will thank us later for this advice. Small pins are sometimes shunned unfortunately. The average Cooperstown pin size is 2.00". We'd suggest at least 1.75", but no smaller. Be a smart designer too... don't splurge on a dangler or a blinking LED eyes for an undersized trading pin. Get a good size first, then if budget permits go for the extras you want. Big pins are better than small pins with bling.

How many Cooperstown pins do I need? Cooperstown trading pin orders are the largest world series trading pin orders we make. There are currently 104 teams in every Cooperstown session and players to to get trading pins from them all. If you have eleven players on your team, you'll need almost 1200 pins. Please don't forget your player's siblings... they like to watch their brothers play ball, but they love trading pins at the Cooperstown World Series.
Cooperstown Trading Pins...