Custom Balloon Pins - Hot Air Ballooning Lapel Pins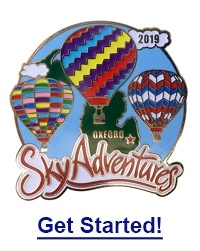 Whether you're a balloon owner, a balloon team, ballooning pin fan or a balloon company, we can make your balloon trading pins and get them to you fast! Ballooning event pins are used to commemorate balloon festivals, raise money through balloon pin sales and create a balloon lapel pin collectible. Customers love getting pins when they go on a balloon ride.

What kind of balloon pin should you get? Photo screen pins are ideal pins for complex full color logos, photos and designs that incorporate gradients (color fading). Soft enamel pins and hard enamel pins are the most popular choice for balloon pins. With soft enamel pins you can feel the design on the pin surface. With hard enamel pins, you get a smooth, durable finish. Both soft and hard enamel pins have a high quality look and feel. Heavy photoscreen pins are perfect if you have a complex & detailed design, but like the heavier feel of a soft enamel or hard enamel pin.

What size to get? Not too big and not too small! The average ballooning pin size is between 1.25" and 1.75". We'd suggest at least 1.25", but you can fit more detail on larger balloon pins.



How many balloon pins do I need? That depends if you are an individual balloon team, running a festival, are a corporate balloon sponsor, etc. If you need ballooning team pins, plan on enough for each of your crew to trade with each of the other balloon owner's teams.

If the balloon pins are for a festival or corporate sponsor, get enough, but don't be worried about leftovers - they are HIGHLY collectible, even by balloon teams and fans that weren't even at your festival (sell 'em on eBay)!
Balloon Pins & Ballooning Pins...