Custom Silicone Wristbands / Silicone Bracelets / Silicone Bands
Custom silicone wristbands, customized with your message or logo. A popular and inexpensive way to promote your organization, cause or event. Raise awareness with customized silicone bracelets. Silicone wristbands will last and be worn for years.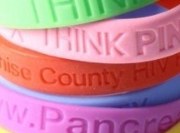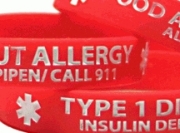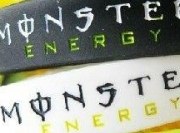 Debossed Silicone Wristbands: These appear as if the text or logo has been cut into the wristband. Enamel coloring may be added to recessed silicone areas of this wristband if desired. Most popular & durable typeof wrist band. The yellow Livestrong bracelets are this type of silicone wristband.



Embossed Silicone Wristbands: When made this way, these appear as if the design is actually raised off the surface of your silicone wristband. A bit less detail is possible this way (versus debossed silicone wrist bands), but your message or logo will be raised.



Printed Silicone Wristbands: Custom silk screen printed designs may be added to silicone wristbands. The most detail may be added using this method. This silicone bracelet type is the least durable of the three styles and design may wear off with extended wear.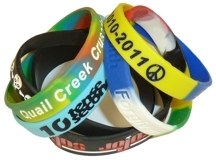 Custom Silicone Wristbands
Molded debossed & embossed wristbands, not laser-made.
Silicone wristbands are solid or multi-colored (add $0.05/color).
Coloring may be added to recessed areas of debossed bands.
Popular promotional items, usually worn for extended periods.
Individually packaged with free regular shipping & no mold fees!
Standard diameters in large (8.00") and small (7.00") sizes.
Custom diameters, widths and thicknesses quoted upon request.
Thicknesses: Standard (1/2"), Medium (3/4"), Fatties (1").
Other sizes are available, contact us for a quick quote
Order any quantity of custom silicone wristbands above the minimum, price breaks simply occur at quantities above.

From the date you place your order, silicone wrist bands can be delivered within 30 calendar days with regular shipping or 15 calendar days with rush shipping. Rush shipping charge is 15% of the total order cost. Call us for last minute order assistance, we can most likely help you (we have made and delivered custom orders in five days).


Order today, delivery will be on or before:
Rush shipping - delivery will be on or before:

Saturday or Sunday deliveries to be adjusted to the following Monday.
We are not responsible for website, email or telephonic pricing errors.
The correct item price will always be charged at the time of the sale.