Armed Service Pins, Military Pins and Custom Unit Pins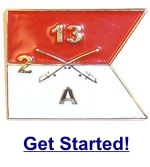 Military service pins and challenge coins are one of our specialties. Whether you need Army pins, Air Force pins, Navy pins or Marine pins, we can help you Even if you need custom unit pins, platoon pins or even Coast Guard or Marchant Marine pins, we can help. With military veterans on staff, we understand the need for high quality pins that don't say 'made in China' all over them.

What kind of years of service pin or unit pin should you get?
Soft enamel pins and hard enamel pins are used for military pins. You want them durable with a high quality look and feel.

What size to get?
Not too big! Most average military pin sizes are between 0.50" and 1.25".

How many armed service pins do I need?
Buy in higher quantities, even if some military pins sit around in supply or the commander's desk drawer waiting to be used. Simply put, it saves you money and reduces government paperwork by avoiding several small orders.
Military Pins & Unit Crest Pins...