Odyssey of the Mind Pins, OotM Trading Pins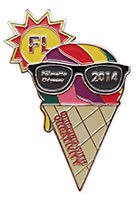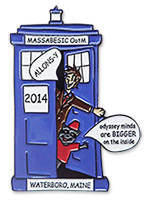 Odyssey of the Mind trading pins are one of our favorite specialties! OotM pins are a lot of fun to trade and to design! Whether you go for a set of trading pins or just a single pin with some cool add-ons, your Odyssey of the Mind pins from Metro Pins will be hot traders - we're determined to make them that way!

What kind of OotM pins should you get? Soft enamel pins and hard enamel pins are almost exclusively used for Odyssey of the Mind trading pins. These have a durable, high quality look and feel.


What size to get? They are never too big when it comes to OotM trading pins! The bigger Omer looks on the pin, the better! A lot of teams are also getting away from Omer and trying new ideas!

How many pins should we order? That will depend upon your team size and how many you want each participant to be able to trade or give away and how many places you'll need pins to trade. The more Odyssey pins you order, the better your price. It's much better to have a few too many, than not enough. You can follow us on Facebook to hear about any sales we have.
Odyssey of the Mind Trading Pins...