Falls Creek Church Camp Pins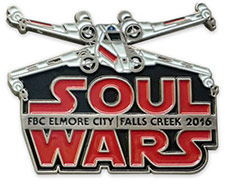 Falls Creek trading pins are a great way to make your church stand out on your weeklong stay! There, you'll have the opportunity to trade with churches from all over the country. Whether you're going with their yearly theme, or doing something original, we'd love to work with you to make your pin perfect!

What kind of Falls Creek pins should you get? Soft enamel pins, hard enamel pins, or photoscreen pins are used at Falls Creek. We usually recommend soft or hard enamel pins for their strength and durability, but sometimes a design will contain color gradients and other photo quality effects. In this instance, we would recommend a photoscreen pin, or even a deluxe photoscreen or photoscreen-enamel hybrid. Also, we have several add-on pin options for you to choose from to make your pin really stand out!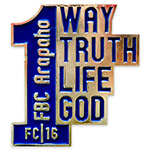 What size to get? A lot of pins traded at Falls Creek are 1.75" or smaller. We also do limited edition pins as large as 3.00" or 4.00". Keep in mind, we are here to work with you on what best fits your design and budget!

How many pins should we order? That will depend upon the size of your group, how many you want each participant to be able to trade or give away and how many places you'll need pins to trade. The more Falls Creek pins you order, the better your price. It's much better to have a few too many, than not enough. Follow us on Facebook to hear about any sales we have.
Falls Creek Church Camp Trading Pins...