Custom Tie Tacks & Promotional Corporate Tietacks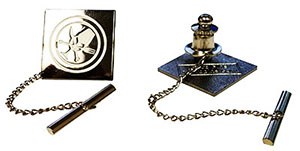 Promote your business or event by handing out something special and different...hand out Custom Tie Tacks! Tie Tacks provide a professional look and promote your business or event. Your beautifully designed custom tie tack will constantly promote you. People keep these!

Custom tie tacks are promotional items that provide subtle & repetitive visual marketing.

Tie tacks are die-struck for durability and then filled with color. Tie tacks can be soft enamel, hard enamel, or die struck.

Soft enamel tie tacks will be filled color that sits lower than the raised metal lines giving the tie tack a raised feel and high-end look.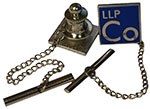 Hard enamel tie tacks also offer a high end look but the colored enamel and raised metal edges are sanded down giving the tie tack a smooth, polished surface.

Die Struck tie tacks are just like soft enamel and hard enamel, except they have no color added to them. The metal is simply stamped with your design giving you clean line and an elegant look.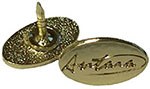 Why Custom Tie Tacks?
Promote your business with a custom tie tack - view plating options
Tie tacks are typically not discarded, they are used!
PMS (Pantone) color matching available
Constant marketing... subtle, repetitive & permanent
Custom tie tack shapes with bright, vivid colors
Other sizes are available, contact us for a quick quote
Order any quantity of tie tacks above the minimum, price breaks simply occur at quantities above.

From the date you place your order, items can be delivered within 30 calendar days with regular shipping or 15 calendar days with rush shipping. Rush shipping charge is 15% of the total order cost. Call us for last minute order information, we can most likely help you (we have made and delivered custom orders in five days).


Order today, delivery will be on or before:
Rush shipping - delivery will be on or before:

Saturday or Sunday deliveries to be adjusted to the following Monday.
Need pins in less than 15 days? You'll need to choose photoscreen pins.

Note about pin size: Pin size is determined by the greater of width or height. Whether pin size is 2.00" by 1.00" or 2.00" by 2.00", that is a 2.00" pin. Plan accordingly.

We are not responsible for website, email or telephonic pricing errors.
The correct item price will always be charged at the time of the sale.