Photo Enamel Hybrid Pins || Photoscreen & Enamel Combination Pins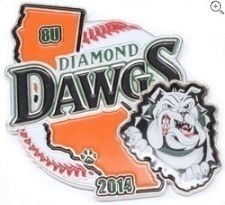 Photo enamel hybrid pins are a combination of two different lapel pin styles. Photo screen pins are combined with enamel pins (either hard or soft), allowing the best of both pin styles on a single pin. A single photo screen pin is embedded into the surface of either a soft enamel pin, a hard enamel pin or a die struck pin. Roll your mouse pointer over the pin images on this page to see close up examples. The die struck base metal of a photo enamel hybrid pin makes these pins sturdier than normal photo screen pins or heavy photo screen pins.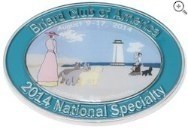 Photo enamel hybrid pins are an excellent choice if your desired lapel pin design contains complex details or photographic elements, but you still want the look and feel of hard enamel pins or soft enamel pins. Additional distinct photoscreen elements may be added to a pin for an additional cost. 2.00" and larger pins have two spur nails on the back, while smaller pins have one.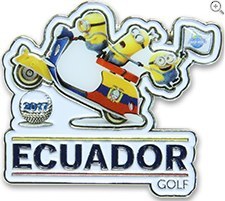 Benefits of Photo Enamel Hybrid pins
A single, full-color contiguous photo screen area on pin
You choose - hard enamel, soft enamel or die struck base
Flexible design - photos, gradients, complex logos
Combination of enamel and photo screen features
Textured feel of enamel pins with photo screen detail
Very high percieved value, especially if trading
Disadvantages of Photo Enamel Hybrid pins
More expensive than standard photoscreen pins
Photo colors are not as vibrant as enamel pins
Longer production time than typical pins
Other sizes are available, contact us for a quick quote
Order any quantity of pins above the minimum, price breaks simply occur at quantities above.

From the date you place your order, items can be delivered within 30 calendar days with regular shipping or 15 calendar days with rush shipping. Rush shipping charge is 15% of the total order cost. Call us for last minute order assistance, we can most likely help you (we have made and delivered custom orders in five days).


Order today, delivery will be on or before:
Rush shipping - delivery will be on or before:

Saturday or Sunday deliveries to be adjusted to the following Monday.
Note about pin size: Pin size is determined by the greater of width or height. Whether pin size is 2.00" by 1.00" or 2.00" by 2.00", that is a 2.00" pin. Plan accordingly.

We are not responsible for website, email or telephonic pricing errors.
The correct item price will always be charged at the time of the sale.