Custom Trading Pins - We make Custom World Series Trading Pins!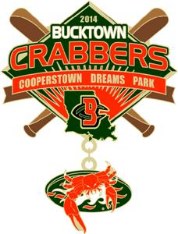 Each year thousands of teams compete in youth World Series baseball world series tournaments. A great part of the experience is pin trading and Metro Pins makes custom trading pins for these teams every year! At the World Series, pins are traded with players from other teams.

What kind of trading pin should you get? Soft enamel pins and photoscreen pins are the most popular choice for custom trading pins. With soft enamel pins you can feel the pin design's surface texture. Photoscreen pins are flat and polished smooth, providing full color and magazine-quality detail. We find roughly 2/3 of custom trading pins are soft enamel (sometimes called die struck with color added) and the other 1/3 are photoscreen pins (or some related type of printed trading pin). Soft enamel pins take longer to make (colored by hand), so keep that in mind.

Compare photoscreen & soft enamel pins

What size pin should I order? Not too small! You will thank us later for this advice. Small pins are sometimes shunned by players. The average custom team pin size is 2.00". We'd suggest at least 1.75", but no smaller. Make smart design choices... don't spend money on a spinner pin or blinking LEDs for a trading pin that is too small. Pick a good size pin first, then if budget permits go for the extra pin options. Large pins are better than small pins with bling.

How many custom trading pins will you need? World Series trading pins are a big part of the entire experience. Get enough for each player on your team to trade pins with every other team. Please don't forget your player's siblings... they love watching their brothers play ball, and they also love trading pins.
Custom Trading Pins...